Seven. How did *that* happen? My "baby" is seven. *sigh*
Ok, thoughts of baby blankets, soft fuzzy baby hair, tiny baby clothes aside, it's time for my boy to grow up (if he insists. Which he does.). And this "big" boy is into what most "big" boys (and lots of actual big boys) are into... Star Wars! So today we'll celebrate in a galaxy far, far away
welcome, padawan

I was inspired by Jennifer S on Catch My Party to make these. Who wouldn't love to get their very own lightsaber in the mail? I love how the party info is printed right on the back. I made mine simpler in front, as I had a LOT to make. Want to make your own?
eat, you must
For lunch we enjoyed hot dogs from the "Hutt Dog" station. Snacks included Wookie Cookies, Carbonite Jell-O and more.
The Hutt Dog station! Not only were our guests given lots of toppings to choose from, we also gave some Star Wars themed ideas on how to prepare their dogs. Feel free to print the Clone Dogs, "Solo" Dog, "Chilly" Dog and Swamp Dog signs for yourself! My signs are displayed in Ikea frames.
The water bottles are covered with glitter paper (it's from a roll of wrapping paper I got at Michaels). Then I got printable Storm Trooper labels from Clean & Scentsible for them.
The Padawan Popcorn boxes can also be printed here. It's a great versitle little favor box! You can print it on any color paper to match your party. If you own a personal cutter like the Cricut, here's an SVG file of the box.
My large "Hutt Dogs" sign was cut with my Cricut but the small food signs can be printed here.
We enjoyed some Bow-Ba Fett Pasta (Ree Drummond's Kid-Friendly Pasta Salad made with bow-tie pasta). The pasta is in cups purchased from TomKat Studios. I chose them because they're lined with plastic so the dressing wouldn't leak through. We also had Princess Lays (potato chips) and more hot dog toppings.
Stephen's cake and cupcakes were inspired by Takes the Cake. The letters, stars and lightsabers were made from fondant. The silver was all touched up with silver Pearl Dust to give them some sparkle.
The Vader-Ade is simply red Gatorade. The Yoda Soda is green Hawaiian Punch and 7up with some green sherbert on top. I made ice cubes from both the Gatorade and Hawaiian Punch to keep the drinks cold without watering them down.
Those fantastic C3PO Oreos pops were inspired by Kitchen Fun with My 3 Sons. They were a big hit! The Cloud City Pops are simply marshmallows on lollipop sticks, dipped in a milk/confections sugar mixture then into blue Pearl Nonpareils. The sticks are actually paper straws purchase, again, from TomKat Studio.
Carbonite Jell-O. How awesome is that? I've seen it in a few places online but I'm going to give the credit to the first person I saw use it. Carli from Dimple Prints. Just fabulous! She also inspired the Death Star Krispies we'll see next...
....made with Cocoa Krispies, these things were SO yummy! I tried to add a little "sparkle" to them with edible glitter, but it just doesn't really show up.
The jarred snacks up top include, Hans Rollos, Ewok Snacks (Teddy Grahams), Thermal Detonators (Whoppers) and Lightsabers (Pixy Stix).
Ah, the Wookie Cookies. How can you not love that face? The brilliant mind that brought up C3PO Oreos, also brought us these fantstic cookies! Thanks Jill over at Kitchen Fun with My 3 Son!
The Obi-Wan Kabob-ies were inspired by these from Sweet Cakes Crafts. The Tie Fighters were inspired by Clean & Scentsible (who also brought us the free Storm Trooper water bottle printables!). They're made from Oreo Crisps (the 100 calorie packs) and mini marshmallows. Another huge hit!
padawan entertainment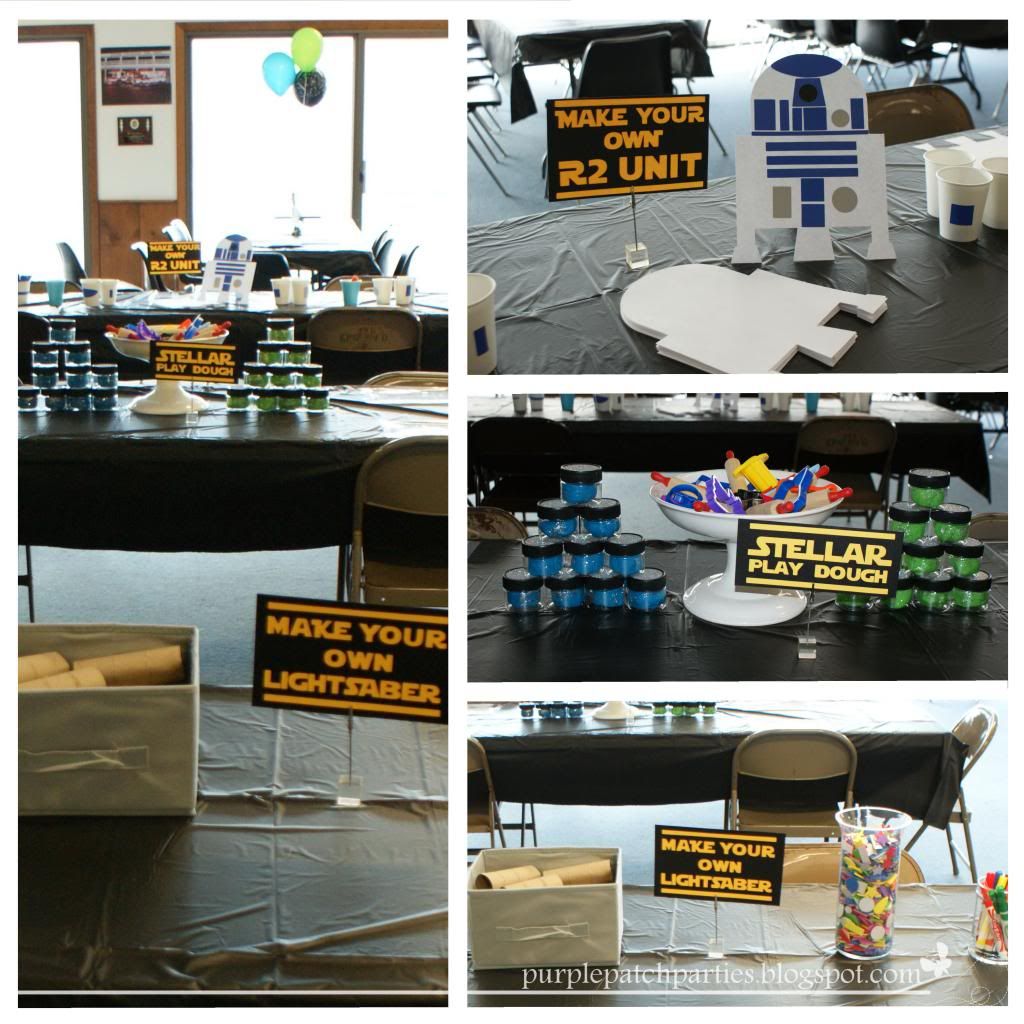 Even Padawan need some down-time! Ours had lots of fun activities to choose from.
Make Your Own Lightsaber: Papertowel tubes, foam stickers, markers and balloon-animal style balloons made up this station. It was the BIGGEST hit! After decorating their papertowel tube, a grown-up slid a deflated balloon in and blew it up. Instant lightsaber! I got this idea from Jennifer S over at Catch My Party. (You'll remember, she also inspired my invitation.)
Stellar Play Dough: Homemade play dough, with some added glitter (for that stellar effect), rollers and cutters made up this crafty station. This fantastic idea came from Tradewind Tiara (as do a few addition ideas you'll see coming up!).
I
used these jars for the play dough. And a word of advice on making the play dough, don't add the glitter too far in advance. I made the play dough about 2 weeks before the party and the glitter all dissolved! We tossed more in just before the festivities.
Make Your Own R2 Unit: Cut almost entirely with my Cricut, we had blank R2 units with an assortment of cardstock shapes to add. I made one for display to help as inspiration. Feel free to download the PNG or SVG of the R2 unit for yourself! Thanks to Sweet Craft Cakes for this great idea! They're also to thank for our "Clone Army" idea below.
The young Jedi Apprentice practiced their blaster training (aka: Nerf guns) on these poor, unexpecting "Clones". That'll teach them for crashing our party!
what's a jedi apprentice to wear?
Our dress-up station had it all! Character masks, Leia headbands and, (of course!) Jedi robes.
Those absolutely fantastic masks were made by etsy seller BessiePooh. You can see all of her wonderful creations here.
The Leia headbands were inspired by Tradewind Tiara (see, I told you you'd see them mentioned again!) She gives great step-by-step instructions on how to make them. The glue gun burns these babies gave me were totally worth it!
Lastly, the Jedi robes. I made mine from "chocolate" broadcloth. I cut strips measuring about 16" wide by 48" long (adjust your length based on the size of your attendees). Then I cut a hole in the center for the kids heads. I then cut 44" strips of tan broadcloth for the belts. The ream was 44" wide, which is why I chose that number. *wink*
Cute, aren't they?
Happy birthday, big guy. <3