When told that our guest of honor adores the Travelocity Roaming Gnome, this party took a beachy turn. As we all know, that Gnome likes to "get away" and what better place to "get" to, than the beach?!
We started with these fabulous cupcakes! Aren't they just great?!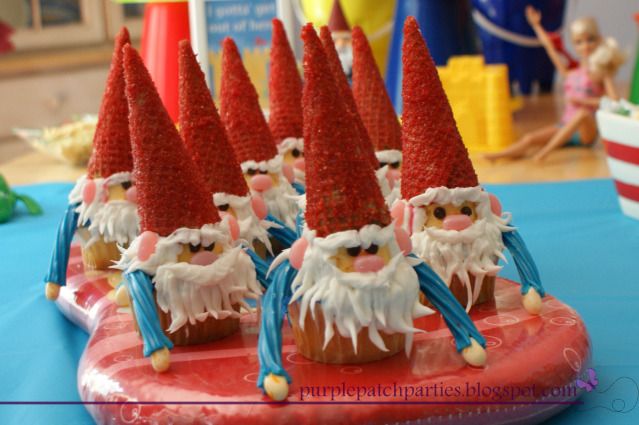 The directions to make these can be found in the book "
Cupcakes, Cookies and Pies, Oh My!
". They're assembly was quite simple, but time consuming! The only blue licorice I could find was in the Twizzler Rainbow Twists packs, so I ended up with a bunch of other colors I didn't want to eat (not a big licorice fan).
To go with our Gnome cupcakes we added beach themed treats.
S'mores pops (marshmallows dipped in melted chocolate and crushed graham crackers)
Small cups of blue M&Ms with red Swedish Fish.
Flip-flop cookies. Nutter Butter cookies with frosting "straps". So simple, yet clever! I got this inspiration from Paisley Petal Events.
"Take a Dip", like these shrimp and chips. The platters are Dollar Tree goodies, glued on top of plastic pails.
For lunch, we enjoyed hot dogs and salads, served with shovels, in pails.
Additional goodies included Goldfish Crackers, Salt Water Taffy and Blue Raspberry Gummy Rings.