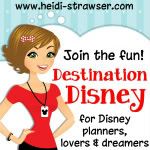 My mission, as I've chosen to accept, is to name my family's top 10 Disney attractions.

Heidi's
laid her first Destination Disney mission upon me, and who am I to argue a chance to talk Disney!? As you've seen here, Disney is my favorite topic! You did see our vacation planning party, didn't you?
Feel free to
join in
. Heidi will give us a new topic each week, for the next 10 weeks. How fun will this be?!
So, here goes (in no particular order)....
10. Pirates of the Caribbean
This classic was a bit intense for
my 3 year old, but the 5 year old loved it! He enjoyed comparing it to his Wii Legos Pirates of the Caribbean game at home. We did the Pirates League just before riding, so he looked and felt like he fit right in with those swashbucklers. Yo-ho, yo-ho, a pirates life for us! Stephen's always been a pirate fan, take a look at his 4th birthday party.
One of my very favorites, I couldn't wait to share this attraction with my children! We always do it first thing, as the animals seem more active then. The gasps and ohs and ahs were priceless. Kilimanjaro Safari will be the first ride we go on every time we visit Disney's Animal Kingdom.
8. The Festival of the Lion King
I have to be honest, this last trip was the very first time I've done The Festival of the Lion King, but I'll do it every time now! It was beautiful and fun and just what I'd picture a live-action version of the movie to be like. The show made us laugh, sing and I even teared up a couple times. The outfits and performers were breathtaking. The whole family loved this one! When the show was over, my 3 year old wanted to get up close and personal with Simba (left).
7. Fantasmic!
Fantasmic! gets the majority vote for nighttime show with my family. The extensive cast of characters, topped off with the big time roll Mickey plays, puts this show at the top of the list. The water, fire, light show... those are all just the sprinkles on top.
6. Toy Story Midway Mania
As is commonly the case, when we arrived at Hollywood Studios this trip, the FastPass for Toy Story Midway Mania was empty. Did that stop us? No way! Our wait was only about 40 minutes, not bad considering, but the fantastic queue kept the kids (mostly) occupied the whole time. My 5 year old, the "gamer" in our family, just LOVED this one. So much so that his 6 birthday party was Midway Mania themed.

5. The Great Movie Ride

The kids have never experience the Great Movie Ride at Hollywood Studios since we thought the "Alien" segment might be too intense for them, but it definitely makes my and Hubby's list! We're both big movie fans and this attraction highlights so many of the greatest films of all time. Plus, it's fun to play in the footprints out front.

4. Spaceship Earth

Who would have ever guessed that my 5 year old's favorite Disney attraction would be Spaceship Earth? He and his Dad rode it lots of time and he just loved it! He even drew pictures of it days later. I've done Spaceship Earth in the past but since I stayed with our 3 year old while they rode, I haven't seen the latest updates. I'm hoping to get a chance on our next trip... I need to see what all the excitement's about!

3. Splash Mountain When asked about his favorite "exciting" attraction, our 5 year old chose Splash Mountain. He rode (in the FRONT!) with his dad, lots of times! That drop makes my toes curls, it amazes me how much he loved it. I think I may have a adrenalin junkie on my hands.
2. It's a Small World
This was my 3 year old's favorite before we even left for vacation! She LOVES this song. When we boarded those little boats and she heard her favorite song, she was so excited! The cherry on top? DOLLS! Moving dolls! What 3 year old wouldn't be in her heaven?
1. Mickey's PhilharMagic
T
he boys in our family love Donald Duck. The girls love Disney music. What attraction fits them all better than Mickey's PhilharMagic? A 3D & 4D adventure, starring Donald Duck, is loaded with the best of the best from Disney's soundtracks. The only thing that could make it better would be pie. Mmm.. pie.
Honorable Mention - The Monorail
T
hough it's not an official "attraction", my kids love the monorail just as much as another "ride" at Walt Disney World.