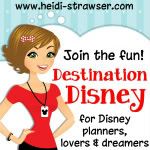 This week's Destination Disney challenge is to name our family's 9 favorite Disney characters. Nine? If it were just me, my list would read, 1. Mickey, 2. Mickey, 3. Mickey... you get the point. I'm all about The Mouse. My kids, however, have more eclectic tastes when it comes to characters from the Disney palette. Don't get me wrong, Mickey is on their lists, he just doesn't occupy each and every spot. (What a shame!)
On with the countdown...





9. Lilo




Our trip to the airport was about an hour long so I popped Lilo & Stitch into the kids DVD player for the trip, because I knew they were the first characters they'd meet at our O'hana breakfast the following morning. Watching their faces as Lilo grew closer and closer to our table was awesome. Then, when Lilo topped her "i" off with a flower in our 3 year old, Sami's, autograph book... priceless. With that little flower, she became an instant favorite.






8. Stitch
Following just behind Lilo at O'hana, was her pal Stitch. Playing around, getting into trouble, the little joker made the kids (and adults) laugh. Stitch is one of their favorites in the movies, and he lived up to hype. Yet, his soft side emerged, just as on film, when he kissed Sami on top of the head. Both the kids love Lilo & Stitch so much, they were part of one of our vacation planning movie nights. Take a look!


7. Aurora


Until our children's first visit to Walt Disney World, Aurora was just another Disney princess. After, and she's become "our" Disney princess. When she approached our table at Cinderella's Royal Table, she planted a kiss right on our 5 year old, Stephen's, cheek. He was so incredibly proud of that kiss, he refused to wash his face and had to make mirror checks throughout the day to make sure it hadn't rubbed off. It was so memorable for him that he still asks us "Hey, remember when Aurora kissed my cheek?" Of course we do, buddy. Of course we do.
6. Minnie Mouse
The place? Chef Mickey's. The dress? Polka dots. Sami could see her coming a mile away. Her favorite Mouse. Those dresses. Those shoes. Those bows! As Minnie finished up visiting the table before ours and moved in our direction, Sami actually shivered with excitement! And to think, I thought she'd be scared of all these big, bold characters. Boy, was I ever wrong!


5. Buzz & Woody


The wait to see this dynamic duo was nearly as long as the line for Midway Mania, but there were lots of fun photo-ops along the way to keep the kids busy. We didn't tell them what was at the end of the wait, which made it that much more fun when they came into view. Buzz & Woody were so fun and took LOTS of photos with the kids. For more Buzz & Woody fun, check out Stephen's Midway Mania party!
4. Daisy Duck


Noticeably missing from Chef Mickey's (can't pull one over on my kids), Mom planned ahead and also booked Donald's Safari Breakfast at Disney's Animal Kingdom to right this wrong. We were thrilled to make her acquaintance. They kids got really excited to see her, as I don't think they expected to. She was just as sweet as could be and really happy that the kids were so excited to see her.



3. Cinderella


The "queen" among princesses, Cinderella is a hot ticket at Walt Disney World. After getting her make-over at the Bibbidi Boppidi Boutique, Sami couldn't wait to meet her doppelganger on our way up to Cinderella's Royal Table for breakfast. Cinderella couldn't have been sweeter to both our Princess Sami and our newly knighted, Sir Stephen. My only complaint... we didn't know she wouldn't be joining us for breakfast, so we didn't get her autograph. Boo.




2. Tink
She wasn't easy to find, but we did it. Pixie Hollow was closed due to the new construction taking place at The Magic Kingdom and she'd been uprooted to a corner in EPCOT. Not the nicest digs for such a sweet little fairy! We waited quite a while to see her but it was SO worth it. She discussed dresses and shoes with Sami for a good 5 minutes and took lots of pictures with both of the kids. I only wish her fairy friends had been there with her. Sami LOVES Tink and her friends. Take a look at her Tink party.


1. Mickey Mouse


The kids had their say, now it's my turn. After all, we mustn't forget, it all started with a mouse! My absolute favorite, forever and always. The big cheese, Mickey. For those of us that love Disney, I don't even need to explain why. This photo is of me and Mickey on my 30th birthday. My love for all things Mickey has rubbed off a bit onto my children too. Stephen's 3rd birthday was even Mickey themed.
Honorable Mention: The "Rare" Characters
From my very first visit in 1987, to my honeymoon in 1997. I LOVE meeting the "rare" characters.
Wasn't that fun?! Check out last week's list - Top 10 Disney Attractions. And be sure to check back next week for our family's 8 favorite "Lands" inside the Disney parks!